Korg PitchHawk-G2 White
Clip Tuners | Product code: PITCHHAWK-G2-WH | ID: 217562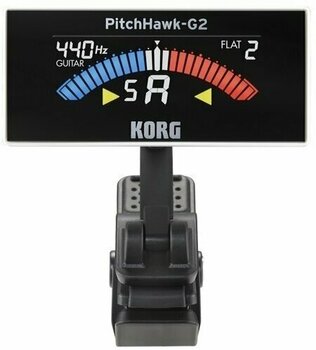 This product is not being manufactured or is not part of our offer.
Looking for alternative?
+442035000766
Contact us
Korg PitchHawk-G2 White
Clip-on tuner for acoustic and electric guitar or bass that can be attached directly to the headstock of the instrument. Improving on the already popular PitchHawk, it features a high-brightness colour display with white backlight and an extremely clear colour VA meter, providing high contrast and a wide viewing angle. In addition to improving visibility, the text and the meter display are colour-coded for dramatically easier recognition. The body has also been made even slimmer, improving both design and functionality. This slimming-down allows the unit to fold completely flat, allowing convenient storage in the pocket of the gig bag or case. The four buttons on the rear surface are positioned left/right/up/down for intuitive operation even when out of sight, simultaneously satisfying the requirements of both functionality and design. In addition to the conventional chromatic mode, the tuner provides a choice of guitar mode or bass mode. In each mode, the string number is shown beside the note name. When in guitar mode, the tuner helps prevent string breakage by showing a "First string over-winding indicator" on the display if it detects that the thin first string has been tightened excessively. This is especially useful for beginners who may not be familiar with the tuning procedure. The tuner is equipped with the piezo pickup that accurately detects only the tuning instrument, even when playing with a band, and the durable clip that firmly adheres to various shapes and sizes to accommodate the headstock of the guitar or bass. The double mechanism of a movable arm and ball joint simultaneously provide both durability and a free range of angle settings. A variety of functions are further available: the calibration function allows a variety of concert tunings, the auto power-off function saves the battery, and the memory backup function preserves the settings even when the power is off. The tuner is powered by one CR2032 lithium battery (included). Dimensions: 61 x 65 x 28 mm. Weight: 26 g. White colour.
Parameters and specifications
Overall score based on 0 user reviews:
Do you own Korg PitchHawk-G2 White or have you had a chance to try it?
© 2004-2020 Muziker | Korg PitchHawk-G2 White